THE CRUMBLING FOUNDATION
Olhão Portugal
The perfect place to paint, to write n' just relax, soak in it's resident chaim, and get elegantly uisted!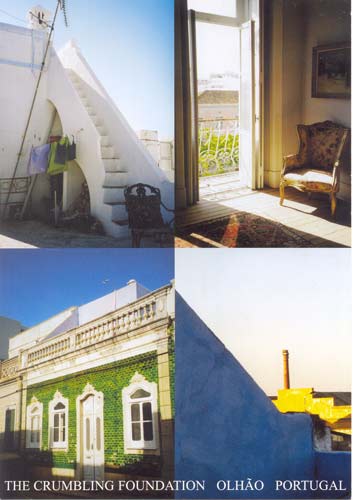 The Crumbling Foundation is a collection of beautiful old buildings with secret gardens and unforgettable views overlooking Olhão, a vibrant fishing port in the eastern Algarve. I named it The Crumbling Foundation to warn off those in search of sterile luxury and bathrooms ensuite!
I was so lucky to discover Olhão. Not even the Portuguese know of its charms despite its stunning island beaches.
It has survived so far from the destruction of mass tourism because of its reputation of stinking fish factories and because of the wall of dormitory high rises you see on driving past. But when the last of the factories moved on the ignorant wide boys moved in knocking down their heritage in search of a fast buck. Have you ever seen a beautiful old building being bulldozed? Its's heartbreaking! But witnessing this brutality and vandalism made it easier to stop painting and try to save the very things that have always inspired me: buildings built from dreams with love and forgotten art. They are precious and once they've gone they will never come back. If it were a case of slash the painting or destroy the building I know which I would choose, and I'm pretty sure Matisse and Bonnard would agree with me. Just because the countless painstaking hours of labour that went into making these inspired houses was carried out by anonymous craftsmen it doesn't mean we should overlook their artistic value.
The Portuguese who are known for their modest quiet manner would never have produced the outrageous egos of Picasso or Dali their Spanish neighbours, but they have built some of the most enchanting and exotic buildings I've ever seen. So to show my respect I'm working hard to save Olhão, my muse, though I wish I had the funds to do more.
I hope to create a comfortable and magical world in the heart of this soulful and inspiring town by providing a range of buildings to explore and work in. You can rent any of the buildings for a private holiday or a room for a long weekend, or come on a painting course with tuition and good food. But my main aim is to provide affordable long term accommodation for painters and writers, open a museum and SAVE OLHÃO!
Piers de Laszlo
For more information ring us on
00351 916 693 261 or 00351 289 715 772
<![if !supportLineBreakNewLine]>
<![endif]>